When Jennifer Ash first met her ex-husband, "Matt", she had no idea what the next nine years would hold for her. After the sudden loss of her first husband from a heart attack when she was 30, Jennifer had to deal with the grief of losing her husband and having to raise and support three small children on her own.
"I lived in subsidized apartments. I was very, very poor. I had basically nothing, and three little kids," said Jennifer. She had met Matt through an online dating site, where they soon became friends. At the time of her late husband's passing, Jennifer was being threatened by his old friends, who would often come to her home to harass her. With this threat looming over her and being alone with her children, she decided to give Matt a chance.
"He wouldn't go away, so I tried to give him a chance," said Jennifer. "Matt seemed decent enough, and wasn't threatening at the time."
However, that would begin to change as their relationship went on, with Matt becoming more controlling of Jennifer.
"Within a few months, I wasn't allowed to talk about my husband who had passed away. I wasn't allowed to mourn him anymore," said Jennifer.
With emotional abuse also came physical abuse.
Jennifer still lives in the home she shared with Matt during their time together, and there are still signs of the physical violence her inflicted upon her throughout the house. She has a broken bathroom door from when Matt punched it, and has nicks on her walls from dishes and silverware being thrown at her during fights.
Jennifer also experienced sexual abuse from Matt, stating that he manipulated her into an open relationship despite her not wanting to do it. He also stands accused of forcing her into various sexual acts, both alone and with other people involved.
"It was almost every day that this was happening, either through coercion or force," said Jennifer, recalling the abuse. "He never cared what I wanted."
Jennifer was not the only one to suffer during the 9-year marriage. Her kids, who did not wish to be named, were also heavily affected by Matt's abusive behavior.
Jennifer recalls one night when she was tucking her youngest daughter into bed.
"I will never forget her beautiful blue eyes staring up at me and going, 'Mommy, I want a new daddy,'" said Jennifer of that night.
"I thought I was going to die. All I wanted to say was, 'Me too, baby, me too.' But, how was I supposed to do that?"
Though the marriage has ended, the children are still showing signs of trauma. All three children have engaged in self-harming behavior at one point in their lives.
"All of them have collapsed mentally, at one point or other," said Jennifer. "There's nothing left of my kids. There's nothing left."
Jennifer also has trauma from her relationship with Matt, and it manifests itself in many different ways. After the abuse she suffered, her outlook on life changed completely, especially when it came to her feelings about men.
"My ability to trust people is quite low... I don't talk to guys, ever," said Jennifer. Now, whenever she is approached by men, either online or in-person, she proceeds with extreme caution and does not tolerate any kind of flirtation. However, once the divorce was finalized and Matt was out of the house, her appreciation for life grew.
"For awhile, I was suicidal. I couldn't find a way out," said Jennifer, recalling the lack of hope she had throughout her marriage to Matt. "[Now,] my outlook on life is I've discovered I can appreciate my life more... I can smile without being questioned... I'm able to love more than I ever thought possible."
Now that Jennifer is no longer in danger at home, she is trying to get a protection order against Matt, with little success.
"The legal system doesn't protect women... at all," said Jennifer. Though she was able to receive a temporary protection order, she ultimately lost the case due to an incident that took place between Jennifer, Matt and Matt's girlfriend at the time.
Matt had begun cheating on Jennifer early into their relationship, and by the end of the marriage, he had impregnated his mistress. Once that relationship became abusive as well, Jennifer stepped in to help the woman, becoming part of her emotional support system as she tried to leave Matt. Jennifer's involvement led to her losing the case to get a protection order against her ex-husband.
Moving forward, Jennifer intends to write to the court.
"I may be one voice, but I'm sure there are others," said Jennifer. "It's not just one case... they want to know why women don't leave."
Right: Jennifer's denied protection order.
A huge part of Jennifer's healing process came from writing her second book, "Sheila's Men."
This book, which acts as a prequel to her first book "Within the Gray," is a fictionalized version of meeting Matt and surviving her marriage to him. Jennifer first started writing her second novel roughly a year before her relationship to Matt ended.
"It was a way for me to express everything I had been through," said Jennifer. "It was part of my healing process."
Though she started the book before she divorced Matt, she took a break from writing it and came back to it once the relationship was officially over. She knew it wasn't time yet, but when the time came to continue writing, she finished the book in six months. The book follows protagonist Sheila, who is meant to be a representation of Jennifer.
"The hardest part is the beginning," said Jennifer, explaining that it was difficult for her to write about meeting Matt and not knowing she was about to enter such a tumultuous, hurtful relationship. Jennifer says she feels ridiculous when she looks back on how attached she got to Matt, but tries to not be too hard on herself when she thinks back to that time.
"I am kind to [younger Jennifer] because I understand why I did the things I did," she said. "You start seeing yourself from a different perspective... I learned a lot about myself."
Throughout the novel, Jennifer frequently returns to a metaphor called "The Gray."
"The Gray" is a representation of Jennifer's darkest, lowest place in life, a place where she feels the most hopeless and lost.
Sheila's character spends a great deal of the book battling a visual, physical representation of "The Gray," a process that is grueling and physically and emotionally draining.
Jennifer says that she was finally able to leave this mental space when she meant her current fiancé, Shawn Sexton. Jennifer and Shawn met just before she and Matt finalized their divorce.
"Shawn had come from an abusive situation as well," said Jennifer, leading to a bond that would eventually turn into love.
"I was in such a dark spot in my life," said Shawn, describing meeting Jennifer. "I hated the world and then she came along... This woman saved my life, she really did."
Shawn and Jennifer have been together for three years, with plans to marry in June 2022.
"I feel like a princess in a fairytale. He makes me so happy," said Jennifer. "I can't imagine my life without him. I see this future I never thought could exist."
After their wedding, the couple plans to move to Florida along with Jennifer's kids.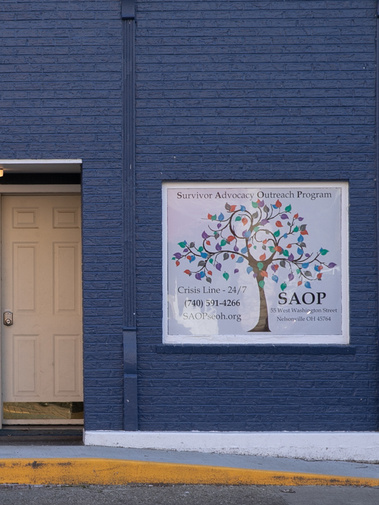 During her marriage, Jennifer had reached out to the Survivor Advocacy Outreach Program (SAOP). Originally founded in 2013 as part of Ohio University's Women's Center, SAOP is a nonprofit organization dedicated to helping women in leaving abusive situations.
SAOP offers many resources to the women it aims to help, including a 24- hour crisis hotline, help with making appointments with health services and law enforcement, and bystander intervention training. After she was free from Matt, Jennifer began volunteering with SAOP as one of their crisis hotline monitors.
"I wanted to learn how to help others," said Jennifer.
Since October of 2018, the nonprofit has assisted over 390 clients, amounting to nearly 1,500 hours of advocacy work.
"The program helped me when I was in the worst position of my life... They can never know how truly grateful I am for their help... God bless them all," said one survivor, who wished to remain anonymous.
Liz Gauthier, 41, came across SAOP in 2016 when she attended an event hosted by the organization in Athens, OH. Liz began speaking with SAOP employee Heather Mitchell about the abuse she had survived in her early childhood at the hands of her older brother, Tyler.
"I just started crying, because I had never faced my trauma in therapy before," said Liz. After the emotional meeting, Liz began to volunteer at SAOP as well, going through the training process to learn the facts about abuse.
"It's about power, not about sex," said Liz about the causes of abuse. "I learned that [abuse] happens at every economic status, and that most cases don't go to prosecution."
Left: The Nelsonville, Ohio SAOP office exterior.
One of Liz Gauthier's first memories is being raped in a closet in her childhood home by her older brother, Tyler, at the age of 5. Though she doesn't remember many details from the assault, she does remember the fear and confusion she felt.
Liz grew up in Utah, a middle child of 9, and was raised Mormon. Liz describes her childhood as sad and full of darkness, a result of her brother sexually abusing her, and several of her sisters, from the age of 5 to 9.
She recognizes that she's had anxiety since she was a child, which exacerbated her confusion surrounding Tyler's abuse and the confidence she had in her mother to help her. Liz claims that her mother, at some point, must have known what was going on, despite doing nothing to stop it.
"At all points, my mother saw him come out of our bedroom once," she said. Her mother told Tyler to stop going into their room, but he didn't. "I didn't want him to touch me, but I liked feeling special," said Liz, recalling the only time she invited Tyler into her personal space.
"I didn't enjoy it, but I knew it would make him happy." She was 9-years-old at the time.
After this incident, Liz wrote her mother a note describing what had been going on. "She said she had kicked him out of the house, but he was in the Navy," recalls Liz. "I think he came back a year later to say sorry, but I didn't process it."
Liz says she would try and talk with her mother about it, only to hear her make excuses on Tyler's behalf. "The message I always got was, 'Well, he didn't mean to do it' or, 'He's changed now,'" she said. "And as a child, or a teenager, you believe what your parents say."
Liz explains that her mother has always been on Tyler's side, never given the support needed for her to fully process and recover from the trauma of the abuse. "I don't blame my mom for what happened. Being a mother, I understand it's a very hard situation," she explained.
"What I do blame my mom for is not supporting me, or not owning up that she leans on Tyler more."
Having grown up Mormon, Liz had spent her teenage years looking forward to the mission trip she was required to take when she turned 21. Not wanting to wait that long, Liz decided to travel to Varanasi, India when she was 19 for her trip.
While there, she decided that religion didn't really make sense, and after getting her college degree, Liz became an atheist at 24 and officially left the Mormon church.
"[Religion is] full of patriarchy and misogyny," said Liz.
"Misogyny is everywhere... I just see it everywhere... It's a control of white men to keep power."
Despite her family being Mormon, Liz was not ostracized from her family when she decided to leave the church; however, it did give her a sense of clarity to the role religion had played in her years of abuse. According to Liz, her mother used to tell her that the abuse she had suffered was meant to happen to her and that it was what God intended.
Liz recalls learning that her mother had gone to one of the bishops in their church about the abuse Tyler was inflicting on his younger sisters. "[He] told her not to do anything about what Tyler was doing... but even if he hadn't said that, I don't think she would have ever reported him."
Liz's mother's refusal to help her when she needed it most greatly affects their relationship today.
She recalls asking her mother to answer some questions she had about what happened with her and Tyler, and her mother refusing to answer them, saying she had been legally advised not to. "To this day, that is the most hurtful thing to come out of [that situation,]" she said.
When educating her own daughters about consent, misogyny, and feminism, she recognizes a fierceness in her voice, which she attributes to the hurt she still has against her mother. "I don't know if I'll ever have a relationship with my mother again. I would like to, but I don't know how I can have a relationship if it's a false safe space," she said.
From her experiences growing up, Liz has become dedicated to helping others in less fortunate situations. "Religion is a way to write off helping people," explained Liz. As she's gotten older, Liz has begun to recognize the level of privilege she has, from living in a big house, to having access to good public education for her children, to how being white puts her ahead compared to people of color.
That's why Liz opts to donate to ACLU and Planned Parenthood every month. "I can't affect social change and help women, but I know they can," she explained.
After Liz's encounter with Heather at the SAOP event in 2016, Liz began the process to report her brother to the Navy Criminal Investigative Service (NCIS), as Tyler was an active member of the Navy at the time.
The process proved grueling. It involved three hours of interviews, with which Liz's mother helped.
Liz asked her mom to not share that she was going after Tyler with her brother, but later found out she went and told despite her request.
"I've probably only been super low three times in my life, and that was one of them," said Liz. "It's always this realization that if I were to lean on my mother, she would always lean more towards my brother."
After her mother betrayed her trust, Liz cut her off. Despite Liz's best efforts, Tyler was never investigated nor prosecuted by the Navy.
"It was bullshit... I was angry for myself, I was sad for myself, but I'm just angry for all women," said Liz.
Liz cites rape culture and victim blaming as reasons her case, like so many others, never went further than giving the information over to the authorities.
"It's the system we've based on misogyny… and a resource problem because they really can't investigate every single sexual abuse crime that happens," explained Liz.
Despite her case never resulting in her brother's prosecution, Liz has managed to heal and process in other ways. Liz started attending therapy to deal with the trauma from her abuse.
"Before therapy, and medicine, and reporting, and setting boundaries, I would just go with the flow," said Liz. "Now, I have an actual voice."
Therapy also helped Liz learn how to validate her own feelings and keep her from gaslighting herself. Liz also finds healing in the way she raises her daughters, Alex and Avery.
"I teach my children about what to do if someone tries to hurt or abuse them," explains Liz, stating that she has tried to educate her daughters on difficult topics so they can stay safe. Liz's mother not being a "safe space" for her has impacted the way she chooses to be a mom to her children.
"Since I've never really had a mother... I think I've been more in touch with who I wish my mother was," she said. Liz prioritizes her daughters' safety,, comfort, and happiness above all else, stating that it's fulfilling to see her daughters play and be happy.
"I always wanna be the safe space for my daughters." Now, Liz, her daughters, and her husband Eric live in a historical home in Wake Forest, North Carolina, with lots of space to live in peace.
"My childhood was really sad, and dark, and full of a lot of hurt... It is foreign to me that you come home and have a mother who asks how your day was, who wants to sit down and talk to you... who has cabinets full of food. We usually just had cereal and milk... This idea that there's someone there to take care of you is mind-blowing. I still don't understand that. So maybe that's why I'm more in touch with my inner mother, because I am there for my children."
-Liz, on motherhood
Left: Liz packs her daughter's lunches for the following day while Avery sits on the counter and keeps her company.